Halloween is just around the corner, which means it's time to pick out the perfect costume, stuff your face with Halloween candy, and hide behind a pillow while watching a scary movie. It also means getting you and your home ready for a creepy-good time. Whether you're staying at home passing out candy, taking the kids trick-or-treating, or throwing a Halloween bash, we have some "spooktackular" tricks and treats that'll make this Halloween unforgettable.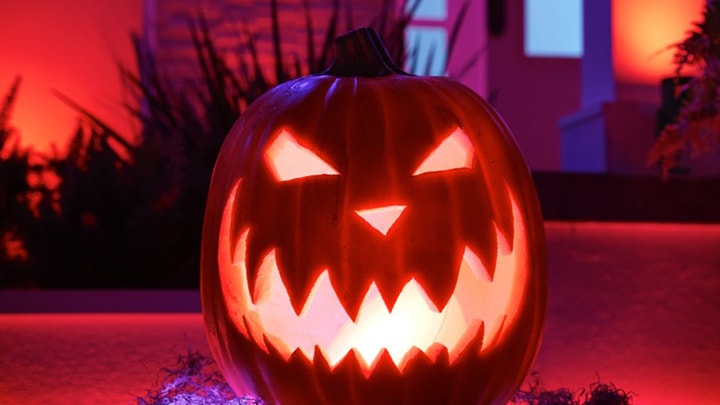 First, you want to create a "haunting" atmosphere. Forget about creating the brightest house on the block — using Philips Hue smart lighting, you can create the spookiest. Bewitch your trick-or-treaters and give your guests a fright by turning your home into your favorite type of Halloween haunt: a ghoulish graveyard, a witch's den, or a monster's mansion — all with the right indoor and outdoor Halloween lights.
With Ring smart home devices, you can get in the spirit while keeping you, your family, and your neighborhood safe. Halloween is unofficially the busiest doorbell day of the year, so having a Ring video doorbell makes it easy to check on trick-or-treaters or party goers. And with the Ring App, you can change the doorbell chime's tone to a screeching cat, a creaky door, or even a creepy laugh. While your front door is likely to see most of the action, Ring Spotlight or Floodlight cameras help you keep an eye on other areas of the house.. If there's suspicious activity (like pranksters trying to TP your yard), you'll be the first to know about it.
If you plan on throwing a Halloween party, you need to have some food and drinks that are "to-die-for" delicious. Heat up your air fryer and make delicious mummy hot dogs, a Halloween "brain bake", or monster donuts. You can also make delicious treats in a Lodge cast iron, like this Halloween deep dish skillet cookie. Want a drink recipe that will spice up your party? Just turn on your crock-pot for this delicious Halloween brew that's good for grownups and little goblins alike.
Hope you have a scary good time this Halloween!
Electronic Express
We Make Halloween Happen